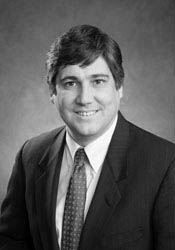 Christopher M. Holmon
Christopher M. Holmon is a graduate of the University of California at Irvine (B.A., 1991) and the University of Maryland School of Law (J.D., 2000). He is admitted to practice law in both Delaware and Maryland and the U.S. District Court for the District of Maryland. He is a member of the American Bar Association's Business, Tax and real Estate Sections. He is also a member of the Sussex County Bar Association.
Mr. Holmon is primarily a transactional attorney. His practice includes residential real estate transactions, business and commercial transactions, finance, business counsel and planning (including the formation of corporations, Limited Liability Companies and partnerships), estate planning, wills and probate.
Mr. Holmon lectures frequently for In-Call, a first time homebuyer education program, and published an article in Maryland Taxes, 3rd Edition, 2002, entitled "Tax Property: Procedure." He is also a title agent for Old Republic Title Insurance Company and First American Title Insurance Company.
Mr. Holmon has offices in Rehoboth Beach and Milford and is the Resident Attorney in the Milford Office of Hudson, Jones, Jaywork & Fisher, LLC.
Education
University of California at Irvine (B.A., 1991)
University of Maryland School of Law (J.D., 2000)
Areas of Practice
Residential Real Estate Transactions
Business and Commercial Transactions
Finance and Business Counsel and Planning (including the formation of Corporations, LLC's and Partnerships
Estate Planning
Wills and Probate